"Stone Manufacturing" shines in the World Cup in Qatar,
"Water Head Manufacturing"
The Royal Palace of Qatar that receives dignitaries from various countries, the Royal Le Meridien Hotel in Doha where Swiss teams stay, and the Doha Marriott Hotel where fans from all over the world stay... In November, from the "money ability" of Qatar, the host of the World Cup, to the luxurious venues, Landmark buildings all make this World Cup the focus of worldwide attention. What is little known is that behind all this, there is the figure of "Shuitou Manufacturing": each piece of stone veneer used has its own independent "ID card", which is intelligently scanned by Nan'an Shuitou Stone Company and stored in In the large database, it is then cut, typesetting, video acceptance, packaging, and shipped to the construction site in Qatar. After more than 2 years of cooperation, Nan'an stone crafts finally shined in the World Cup.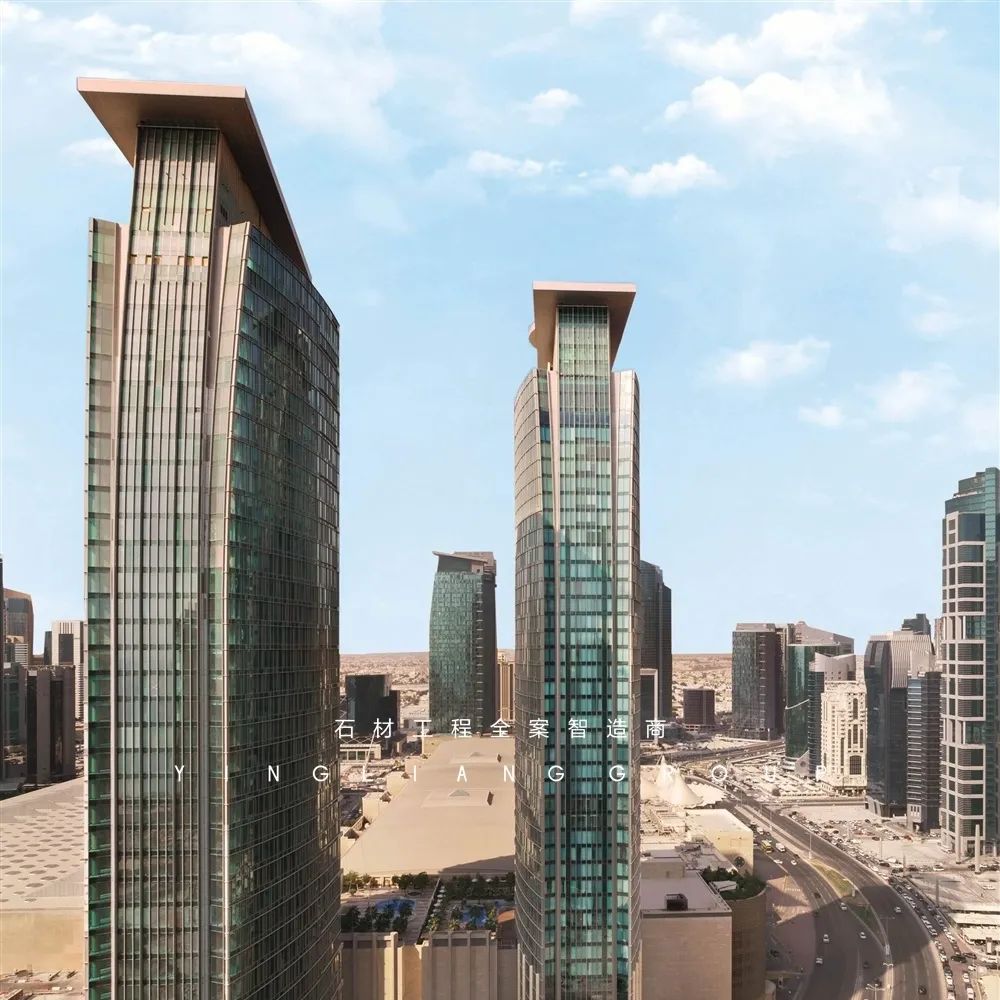 The exterior of the Marriott Hotel Doha, Qatar
High-end stone "dress up" Qatari architecture
Snowflake White, Percy Gray, Jue Shi White, Petrified Wood... The high-end stone materials imported by Nan'an Enterprise Huahui Group from Italy, Spain, Greece and other countries were decorated in the facing of the stalwart building in Qatar, where the 2022 World Cup will be held superior.
"The Doha Royal Meridien Hotel and the Doha Marriott Hotel, which receive Swiss players, use 'Rolls Royce' among the stone materials. The snowflake white used in the public area costs thousands of yuan per square meter. The jazz white used for the bathroom floor, The snowflake white used for the countertops would be fine if they were all flat panels, but the key point is that this is a five-star hotel with high requirements for details, so it is hard to imagine the difficulty of perfect presentation of special shapes." Pan Xiaomao, General Manager of Huahui Group's Engineering Department Tell the reporter that Huahui only supplied more than 30,000 square meters of stone materials for these two hotels in Qatar.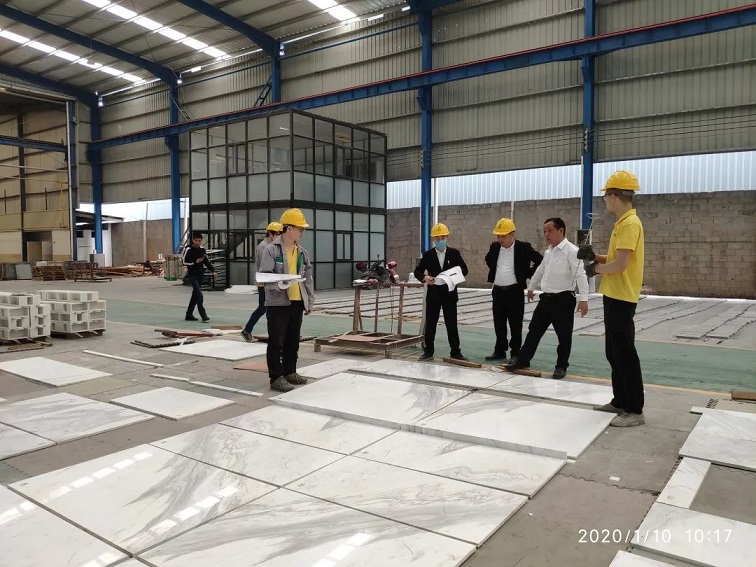 The Qatar project team came to Huahui to check and accept the stone
Speaking of the origins of the two hotel projects in Qatar, it can be traced back to 2019. Pan Xiaomao clearly remembers that at that time, many leading stone companies in China were bidding for the hotel project in Qatar. In order to select the best matching suppliers, Party A asked several powerful companies to build sample rooms. In the end, Huahui Group and Yingliang Stone stood out.
"Although it is not a big project, I was very emotional on the day of the signing, because it is no longer a matter of making money, but the recognition of international companies." Pan Xiaomao told reporters that starting from the first half of 2019, they officially Stone supply for the 2 hotels. In order to do a good job in the project, Huahui Group has also set up a special project service team. Before production, each batch of goods will be scanned and pre-typeset, and then produced after confirmation by Party A. After production, it will be typeset again and conduct remote video acceptance. issue.
"100 sets of stone materials for hotel bathrooms will cover an area of ​​more than 10,000 square meters after being spread out, all of which are laid flat on the factory floor. No matter which piece of stone material has its 'ID card', the project can be described as complicated. Until last year during the Xiamen Stone Exhibition, It was all delivered." Pan Xiaomao said that although the total project size is only more than 30,000 square meters, the project cost is as high as 45 million yuan.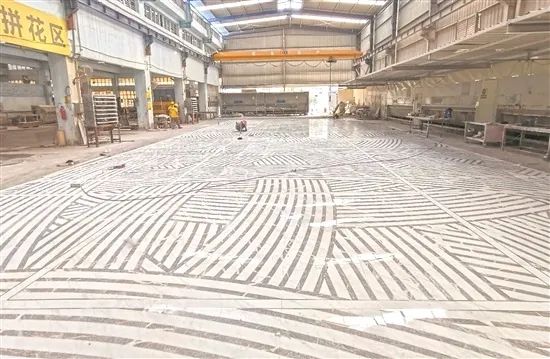 Before the mosaic stone is shipped to Qatar, it must be pre-typeset in the enterprise to ensure that the installation is foolproof.
In addition, Yingliang Stone also participated in part of the stone supply for the Doha Marriott Hotel. Talking about his impression of Qatar, Zheng Jingcheng, head of the Yingliang Stone Export Business Department, said that Qatari customers have very high requirements for stone products and corporate services, and the companies that cooperate with them must not only have strong production capabilities, but also have global supply. Coordination ability. In order to meet the almost demanding requirements of Qatari customers, Yingliang Stone set up a dedicated service team to follow up the progress of the project 24 hours a day, and adopted a digital intelligent identification system to ensure the best typesetting, which is why it achieved this stunning global performance.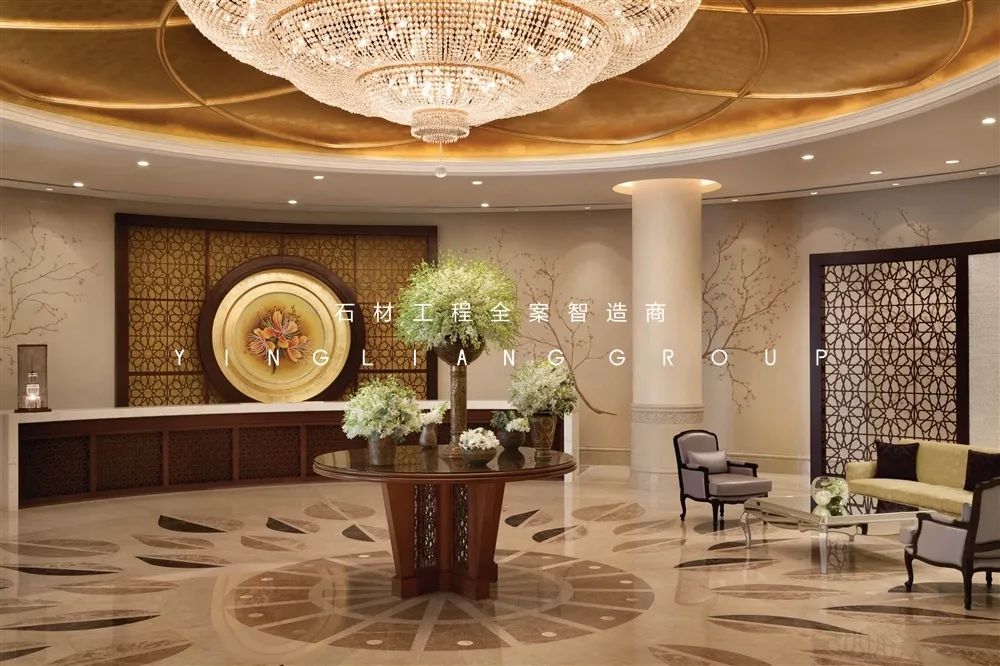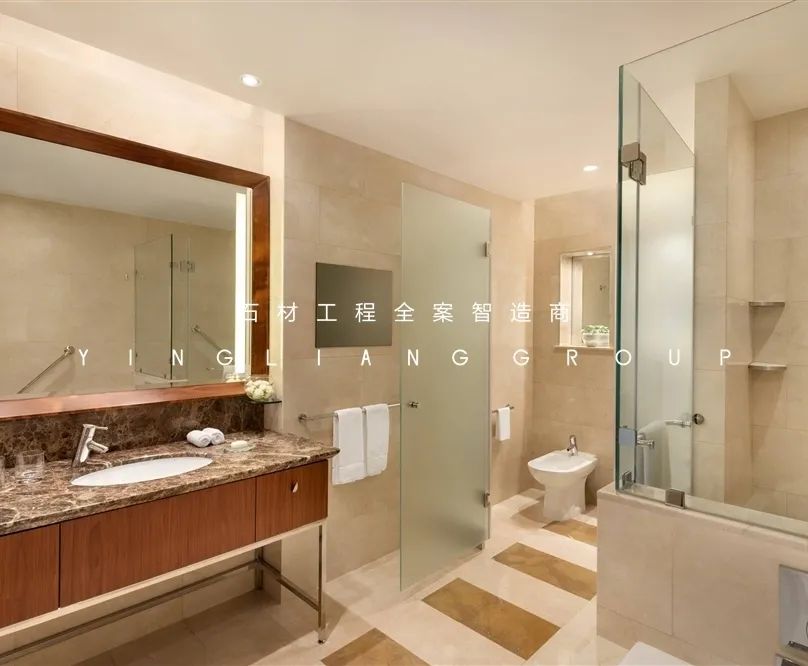 Yingliang Stone undertakes Qatar Marriott Hotel project display
At the same time, the much-anticipated Qatar Royal Palace's petrified wood exterior walls were also supplied by Nan'an Enterprises. "June 25, 2019, was a very impressive day. It was the day when Huazhi officially signed a contract with Qatari customers to confirm production." Wu Hao, the head of Huazhi Stone Industry, said in an interview that stone trade and export have always been the main business. Huazhi Stone Industry has undertaken many overseas projects, but has never undertaken a single project with a volume of 90,000 square meters.
"Belt and Road" has become a new battlefield for dreaming
The construction of the World Cup in Qatar is not the beginning of Nan'an stone companies hiring the Middle East area. As early as 2010, stone companies headed by Huahui, Yingliang, Gaoshi, Dongxing, China Resources, Kangli, Huazhi, and Tianfa had set up offices or branches in Middle Eastern countries; After the "One Road" initiative, it has made great strides and has undertaken countless overseas projects.
It is reported that Qatar is one of the first countries to sign the "Belt and Road" cooperation document with China, and it is also a witness of China's manufacturing strength. Under the great light of the World Cup, Nan'an enterprises undertook the engineering projects related to the event, and let the world see the rapid development of Chinese manufacturing again.
Talking about the development prospects of the "Belt and Road", Liu Liang, chairman of Yingliang Group, is very optimistic. "Yingliang started to deploy overseas markets as early as 10 years ago. The traditional European market and the US market are actually not our target markets. Among all overseas business departments, the most important one is the Middle East business department, including Egypt and Dubai. , Saudi Arabia, Qatar and other countries. The new capital CBD project in Egypt we are working on now is one of the important projects on the 'Belt and Road', which is aided by China State Construction Group in connection with Egypt."
Yingliang Warehouse No. 5
Coincidentally, as early as 2004, Huang Tiansheng, an entrepreneur from Nan'an, registered Dubai Tianfa Stone Company, dealing in various imported marble, granite and various domestic stone materials. The main products are columns, Roman columns, column caps, stone lines, round Arc plate, engineering plate, etc. In 2020, Nan'an's newly promoted star enterprises Herun Stone also opened factories in Egypt, not only selling local stone materials from Egypt to China, but also using stone materials from other countries in some local buildings in Egypt.
Taking advantage of the "Belt and Road" initiative, more and more Nan'an enterprises are "going out", realizing the globalization of China's stone industry well and quickly. It can be seen from the export data: from January to July this year, the export of Nan'an enterprises to Qatar increased by 91% compared with the same period last year. The export of stone enterprise Zhonghuahui Group increased significantly, with a year-on-year increase of 407.24%. Last year, Huahui Group's exports to Qatar totaled 31.08 million yuan.
Liu Liang said, "my country's stone stores have not yet successfully gone abroad. In response to the 'Belt and Road' initiative, they have been
Since then, governments at all levels should issue some policies to encourage stone stores to build parks and open stores overseas. Related domestic associations and some international chambers of commerce (associations) should also take active actions to build bridges and provide good services for enterprises to go global. "
The areas covered by the "One Belt, One Road" initiative are many countries rich in quarry, which is even more significant for industries with huge demand for foreign markets and resources. While Chinese stone companies are gearing up to invest in new markets, many countries are also optimistic about the development and cooperation prospects of the stone industry of the two countries under the "Belt and Road" initiative.
In the view of Li Qunsheng, president of Nan'an Stone Machinery Accessories Federation, not only stone enterprises, but also stone machinery and stone products are actively integrating into the "Belt and Road" construction. The infrastructure construction projects undertaken by my country in countries along the "Belt and Road" , requires a large amount of materials and equipment, and the scope of influence, the wide geographical span, and the long construction period are unprecedented.